Thousand Oaks, CA – Stories are powerful. They help us connect with each other in meaningful ways― beyond statistics or mere descriptions of events. They provide a narrative that builds empathy and connection to people and their journey. Storytelling has been used for 1,000s of years as a tool for education, creating shared culture and instilling values.
Amgen has partnered with StoryCorps to use the power of storytelling to raise awareness of multiple myeloma and the importance of continued research. Together they've launched Blood Counts, an effort to record and share personal stories from patients, caregivers, advocacy groups, physicians and others within the multiple myeloma community.
Video Player
Multiple myeloma is an incurable blood cancer characterized by a recurring pattern of remission and relapse. Each patient's journey is different and will often require different approaches over time, but what remains the biggest hurdle is the ongoing cycle of success and failure in therapy.
Storytelling has been demonstrated to help patients cope with cancer. Research has shown that 97% of respondents agreed that storytelling helped with coping and 85% agreed that hearing stories of others living with cancer gave them hope to push on.
Given the cyclical nature of treatment for multiple myeloma, the Blood Counts project has an opportunity for even great impact with real-life accounts of persistence and hope.
"StoryCorps gives everyday people, including those who are facing serious illness, the opportunity to record meaningful conversations about who they are, what they've learned in life, and what matters most to them. We share these stories to build compassion and offer hope to others" -Braden Lay-Michaels, Chief External Relations Officer, StoryCorps
However, giving hope is not the only goal of the campaign. Awareness is a key factor in the effort of helping support those diagnosed with multiple myeloma.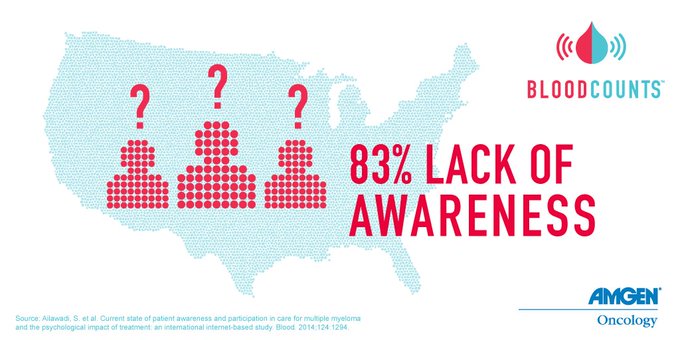 Follow

Amgen 
✔
@Amgen


A survey of 743 U.S. #myeloma patients showed that 83% had no prior knowledge of the disease when diagnosed. #BloodCounts#AmgenOnco
3:15 PM - Dec 27, 2016
Lack of awareness can lead to delayed diagnoses, which can have a significant impact on the clinical course of the disease.
"We hope that by sharing stories and experiences from the community, we can help educate about multiple myeloma and celebrate the progress made, as we move closer to accomplishing our mission of finding a cure." -Reshma Kewalramani, M.D., VP and Head of U.S. Medical, Amgen.
The Blood Counts campaign kicked off at the 58th American Society of Hematology (ASH) Annual Meeting in San Diego early in December 2016. A StoryCorps mobile booth was there to capture stories from the community.
 Follow

Amgen 
✔
@Amgen


See a recording of our #Periscope broadcast from #ASH16announcing the launch of #BloodCounts! http://
bit.ly/2g3CCOj#AmgenO
nco 
…
7:01 PM - Dec 6, 2016


LIVE from #ASH16 with Amgen! #AmgenOnco #BloodCounts (c)StoryCorps — San Diego, CA, United States
periscope.tv
Why This Matters
Empathy experiences are a major communications trend emerging for 2017. The popularity of empathy projects like humans of New York and the ability to create meaningful connections with strangers is helping brands uncover real, authentic accounts about people and their stories.
The pervasive narrative in 24/7 news about the rise of cancer and the host of things that may cause/prevent it takes a toll on the public's ability to connect. Many people are increasingly numb to the drumbeat of despair and statistics. What breaks through today are small stories we can relate to― little glimpses of someone's life that puts all this severity into a human context.
But it isn't only about the story. The act of storytelling itself is a powerful way to empower others and create community. Projects like Blood Counts help bring together a variety of stakeholders to share real stories and frank perspective. They give people a voice in the conversations around the conditions that affect them, their families and their community.
These stories help create a shared culture of awareness, courage and hope. They shed a light on what really counts in the fight against cancer.