Voices of inVentiv: Chris Iafolla – Head of Digital & Social Strategy
Austin, TX– 2017 marked the 30th year of SXSW. Over that time, the interactive, film and music festival has expanded from a conference that hosted 700 attendees to one that attracts the biggest brands in the world and keynote speakers like President Obama and Vice President Biden. This expansion has also given rise to a specific focus on health with the introduction of a health track, making what was once a fringe conference for many of our clients an important showcase for innovation.
Below, we've outlined some of the top health topics from 2017, along with some of the broader digital themes that emerged.
1) Pharma companies are taking notice
Once thought of as the launch pad for social media platforms like Twitter and Foursquare, SXSW is now a hub of innovation and pharma wants in on the action. The event is so prominent that Johnson and Johnson sent its CEO, Alex Gorsky to keynote a presentation about the launch of its GenH Challenge, which seeks to find solutions to the world's biggest health challenges. Pfizer also had a significant presence, sending its 70-year old intern to present on a panel about "Boomer Millennials." It's not surprising that these companies led the charge amongst pharmaceutical companies in both buzz and content creation at SXSW. Both of these efforts positioned the companies as forward-thinking enterprises willing to think about their business in unconventional ways. It translated to not just social media buzz, but earned media as well.
2) Cancer took center stage
Of all the health content that propagated social media, cancer was by far the most dominant. In fact, Tweets about cancer comprised nearly half of all content shared with #SXSWhealth. The catalyst for this prolific sharing was the keynote speech from Joe and Jill Biden on their cancer moonshot initiative.
3) VR
It's not surprising that the evolution of virtual reality dominated the SXSW Health conversation. As prices of the technology continue to drop and adoption grows, we are going to continue to see more healthcare applications. One interesting application that was being talked about at SXSW was a customer virtual reality headset for kids (below). The headset is designed to help treat vision impairment early in life.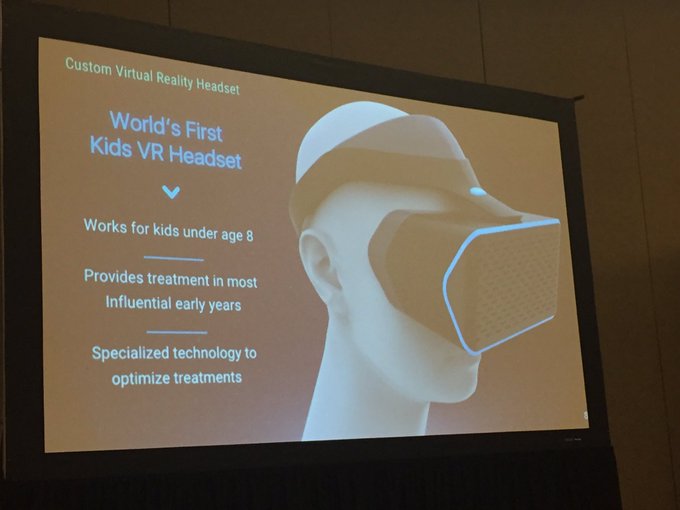 Follow

FTR4H @FTR4H


#VirtualReality meets kids meets #healthcare at @luminopia. Spotted @sxsw #kidshealth #SXSWHealth #SXSW
12:47 PM - Mar 13, 2017
4) Pediatric Health
Tied to the above, pediatric health was a hot topic of conversation. SXSW held a Shark Tank-style pitch event where small companies were able to present their ideas on how to impact pediatric health. The two winners were the company that designed the headset above, Luminopia, and a company called Keriton, which makes Breast Milk Management & Lactation Analytics for Neonatal ICUs – helping babies get more breast milk and improving nurse productivity.
5) Artificial Intelligence (AI)
The conversation around improved machine learning, Big Data, and AI is constant and this was abundantly clear at SXSW. Brands like Intel, IBM and Kohl's all displayed new applications and thinking around AI, and this has huge implications for advertising and marketing. As AI evolves and becomes more accessible, marketers will continue to recognize the power this technology has to both refine and optimize their overall process as well as the ability for AI to significantly contribute to the level and quality of insights to drive strategic thinking.
AI Part 2: Chatbots
While not new, recent technological advances and a rise in digital and social messaging usage made this a popular topic at SXSW. While their overall importance may be debated, bots have radically changed the way businesses and brands engage with consumers – the potential applications for leveraging bots and AI in healthcare are vast and have the potential to reshape how companies communicate with various stakeholders (though we have a hunch those pesky regulations might slow the pace of change). 
6) The Internet of Things (IOT)
As the name implies, IOT is simply the internet connectivity of everyday devices that generate data. A smart fridge, car or a slow cooker are all part of IOT, and the investment is in the expansion of how humans experience and interact with IOT at the intersection of the physical and digital worlds. This continues to expand exponentially as more brands search for ways to integrate smart technology and create an ecosystem of personalized and responsive technology. There were a variety of established brands and start-ups alike introducing products and technologies in Austin, but among our favorites were Sony's portable projector that turns any surface into a touch screen and the Levi's x Jacquard by Google smart jacket.
That's a wrap for SXSW 2017. While there were a lot of other topics discussed, these are the ones that generated the most buzz. They will no doubt be continuing topics of conversation throughout the year and we wouldn't be surprised to see some of them again at next year's conference.
Chris is head of inVentiv Health Communications' digital and social strategy group where he shapes social and digital offerings to provide clients with effective, valuable and compliant strategies for the highly regulated healthcare industry. With more than 10 years of experience exclusively in digital and social health, he serves as a senior strategic counselor to clients adopting and executing new channel strategies.